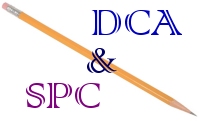 Topics...
Create a list of possible writing topics
Authors write best when they write from their own personal experience. For younger authors, this should be concrete, first-hand experience. For more mature writers, this can include research, interviews and readings. Regardless, an environment rich in experiences and materials will stimulate topics for writing. In the DCA, writers should keep a list of topics which they can refer to and update as an ongoing work in progress. Authors will not use all the topics from their list, but the list will be a rich source of ideas for future writing.
In the traditional classroom this was typically kept in a manila file folder in a drawer or filing cabinet. In the DCA students are encouraged to keep their topic list in a word processing file saved as 'topics' in a student writing folder created especially for each author on your classroom computer or school network so that it can be easily accessed without having to be printed out.
In developing a topic list, provide students with lots of concrete experiences from which they can draw. Examples of such experiences in the classroom include:
| | |
| --- | --- |
| Learning centers | Oral reading |
| Science experiments | Creative drama |
| Cooking | Role playing |
| Building | Research |
| Dissecting | Virtual Field Trip |
| Deconstructing | Computer Simulation |
| Listening to music | Writing to keypals |
| Playing a board game | Videoconference |
| Playing a team game | Brainstorming |
| Playing a game of skill | Semantic mapping |
Click here to download a free copy of
Adobe Reader
Writing prompts can also be a great way to have students generate writing. Consider these links:
Random Daily Prompt Generator
http://www.writingfix.com/dailypromptgenerator.htm

Writing Prompts and Photograph Inspiration
http://www.creativity-portal.com/howto/writing/writing.prompts.html

6 + 1 Writing Prompts
http://www.nwrel.org/assessment/prompts.php?odelay=2&d=1&prompt=1

Topics by Grade Level
http://www.thewritesource.com/topics.htm

Journal Topics
http://www.canteach.ca/elementary/prompts.html

Topics and Picture Prompts
http://www.enchantedlearning.com/essay/

365 days of Writing Prompts
http://www.writersdigest.com/writingprompts.asp

175 Writing Prompts
http://ftp.ets.org/pub/toefl/989563wt.pdf

Argumentative Essay Topics
http://www.gc.maricopa.edu/english/topicarg.html

5 Types of Writing Prompts
http://www.eslgold.com/site.jsp?resource=pag_stu_writing_topics

Regents' Writing Prompts
http://www2.gsu.edu/~wwwrtp/topics.htm